Roll over image to zoom in
Key Features
Reduced-Emission Engine Technology produces zero or low exhaust emissions
Locking Key prevents accidental starting of the motor
Conveniently lightweight (only 27 lbs.) with folding handles, making it easy to transport and to store
No gradual drop in power, so you can work at full speed until battery is depleted
Description
The RMA 510 V self propelled lawn mower gives homeowners the performance of a petrol powered mowers without any of the hassles. Enjoy instant starting, less noise and zero exhaust emissions. It features a 21" deck, so you can cover more lawn faster than previous models. The RMA 510 V also includes a holding slot for a second battery, so you can swap batteries and be ready to cut again in seconds. It also features an adjustable handlebar, grass catcher and larger rear wheels for rough terrain. This battery-powered lawn mower is great for medium to larger sized gardens. Run time may vary based on battery type, charge level and capacity, model, operating style and conditions. Batteries and chargers can be purchased separately or as a combined kit with the skin.

SKIN ONLY – requires battery and charger sold separately, see links below.
Batteries
Chargers
Customer Reviews
Customer Reviews
Write a Review
Ask a Question
09/18/2021
Cathy S.

Australia
"Lovely Lawns"
The experience I had using my brand new Stihl RMA510V Self Propelled Battery Lawn Mower was wonderful! Working out how to start the mower took me a while as did getting used to using it. Initially, even at tortoise pace it moved quite fast. However, on the first go, I gained control of the mower very quickly so it did not try "to run away from me"- it was just a matter of getting used to managing the controls. I am very happy with the results of my lovely mown lawn. The 2 batteries provided enough power to mow the whole lawn, though I think that in time, It will only take one battery. Previously, and for many years, I used a petrol driven lawn mower which also did a great job. I researched all types of lawn mowers and brands until I decided on this one. Now, with my Stihl, it also does a great job; in addition, it saves on time, my energy and probably money as well. If my Stihl battery powered, self propelled lawn mower leads a long happy working life as did my petrol lawn mower, I would be very happy. It is also a welcome addition to my "family" of Stihl tools as I own 2 others. I value my high quality Stihl lawn mower- it is a luxury to own, a dream to use and overall a very impressive lawn mower which I would recommend highly. Thankyou to Stihl and to the members of my local Stihl shop who provided me with advice and a prompt delivery of my new Stihl mower. Cathy.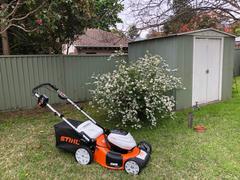 Specs
Residential & Commercial Use
Buy Now, Pay Later with Humm