Stihl MS211C-BE Petrol Chainsaw
Click n Collect for
$685.02
Pre-Separation Air Filtration System
The innovative long-life air filter system greatly extends the service life of the filter.
Advanced Combustion Technology
The advanced combustion technology helps lower fuel consumption and high torque across a broad rpm range.
STIHL Anti Vibration system
STIHL developed an anti-vibration system where the oscillations from the machines engine are dampened which significantly reduces vibrations at the handles.
Compensator
This controller in the carburettor prevents the fuel-air mixture getting richer as the air filter becomes clogged.
Manual Fuel Pump (Purger)
A small fuel pump delivers fuel to the carburettor at the touch of a button. This reduces the number of starting strokes required from a cold start.
QuickStop Chain Brake
The STIHL Quickstop® chain brake is designed to stop the rotation of the chain if activated by the operator's hand or by inertia if the saw kicks back with sufficient force.
Single-Lever Master Control
All important functions such as start, choke, throttle and stop are operated via a single lever.
Easy2Start
Easy starting with less effort due to an additional spring between the crankshaft and the rope rotor.
Slice through wood like a pro and get all your work done in no time. This heavy-duty MS211C-CE Petrol Chainsaw by STIHL offers an unbeatable ease-of-use and impressive power, handling every job effortlessly. STIHL has designed this model with convenience in mind, integrating a fuel-efficient 2-MIX engine that boosts power, while reducing consumption and pollution, resulting in a cleaner and more fuel-efficient engine.


A small fuel pump delivers fuel to the carburetor at the touch of a button, reducing the number of starting strokes required for a cold start. STIHL has integrated an efficient anti-vibration system to reduce strain, allowing you to work for longer periods without impacting your arms and hands. The construction of this model is surprisingly lightweight for such a robust chainsaw, allowing you to maneuver freely and resulting in minimal strain and fatigue.


This high-performance chainsaw by STIHL offers a precise and clean cutting experience and an unbeatable ease-of-use that could only come from a brand as seasoned as Stihl. It also comes with a 2 year domestic warranty for peace of mind.
General Details
Country of Assembly: Australia
Model Number: 1139 200 0388
Most Suitable For: Domestic Use
Power Source: Petrol (2-stroke)
Engine
Engine air injection: Yes
Engine Displacement: 35.2cc
Engine Model: Stihl MS211 C-BE
Start Type: Pull Cord (Easy2Start)
Bar & Chain
Chain Brake: Yes (QuickStop)
Location of Tensioner: Side-mounted
Tool-Free Tensioning: Yes
Fuel & Oil
Fuel Tank Capacity: 0.27L
Fuel Type: Mixed (Gasoline and Two-stroke Oil)
Other
single-lever-master-control
Single-Lever Master Control: Yes
Warranty
Warranty information provided by STIHL is
available here
. Additionally, GYC gives you a further 12 months of coverage free of charge for any Click n Collect orders.
Learn more.
Returns
GYC will happily assist customers who wish to return or exchange goods purchased from our online shop or any of our stores located throughout the Sydney metropolitan area. Click here to view information about our returns policy.
Customer Reviews
Write a Review
Ask a Question
06/13/2021
Ed N.

Australia
Great Product!
Replaced my nine year old STIHL chainsaw, still working fine but now permanently borrowed by my son, with a new STIHL MS211C-BE. A great product, easy to start and use. The tool less fuel, and chain oil caps are a nice knew addition and the tool less bar adjustment makes keeping the correct chain tension super easy even with prolonged use. Great build quality and certainly a product I can personally recommend.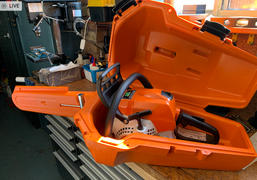 09/08/2020
Cameron S.

Australia
Buy Now, Pay Later Up to $2,000
Choose Humm at checkout for up to $2,000 that you can pay off in up to 10 x fortnightly instalments.*
LEARN MORE
Interest-Free Finance Up to $50,000
Choose Humm90 at checkout for up to $50,000 credit and up to 60 months interest free for those bigger buys.*
LEARN MORE